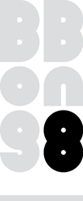 ---
About
---
I am Bong Young-Sun a.k.a BBong8
who work as a Graphic Designer
in South Korea. I am inspired by
my personal experience and particles
of everyday life. What to do design
is a process to explore my thoughts
and try to imagine constantly. I hope
that you enjoy looking through website.

---
Contact
---
e bongys3@hotmail.com
m 010 8633 9188

---
Works
Photos
Copyright ¨Ï 2014, BBong8